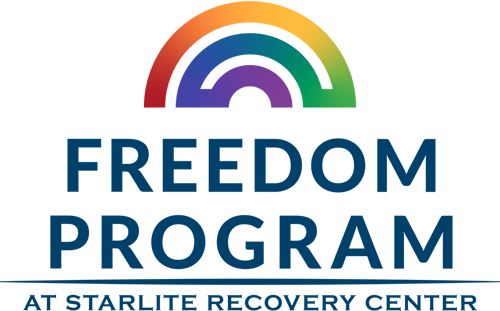 LGBTQ+ individuals who are struggling with addiction and mental health disorders can find acceptance, safety, and solace at Starlite Recovery Center. Our open and respectful healing environment empowers our LGBTQ+ clients to fully embrace our "Free to Be Me" mindset.
Serving Unique Needs of LGBTQ+ Community
For clients identifying as lesbian, gay, bisexual, transgender, gender-queer, intersex, or asexual (LGBTQ+), addiction to alcohol and other drugs can be a complex issue. Some of the primary issues these clients face on their journey to recovery include depression, anxiety, and trauma; feelings of shame, guilt, and rejection; confusion and self-identity conflicts. The caring staff at Starlite understands the unique needs of these clients and knows that with the right care and support, lifelong recovery from the disease of addiction is possible. 
Comprehensive Treatment Experience
As Texas' leading drug and alcohol treatment center, Starlite recognizes and appreciates that each individual client brings their own unique background and set of life experiences that makes them who they are today. We strive to offer rehab programming that meets our clients' needs, both in their lives and in their recovery. Research has shown that LGBTQ+-identifying clients benefit from uniquely tailored addiction rehab – treatment that is affirming and integrative. The Freedom Program provides hope and healing to these clients in a safe and supportive environment where LGBTQ+ = Human.  
About the Freedom Program
Groups meet several times a week and are geared specifically to issues that are unique to LGBTQ+ individuals
We utilize a specialized curriculum that addresses the issues these clients have faced
Peer support from the community is provided
Lambda 12-step meetings are attended each week
We provide individual counseling and group counseling with significant others or family as needed
Clients are referred to the appropriate resource(s) post treatment for continued care