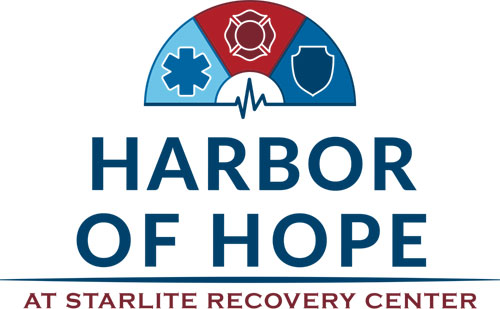 At Starlite Recovery Center, we offer services specifically for first responders who are struggling with behavioral health concerns. Through our Harbor of Hope program, we aim to help our patients who selflessly serve their communities lay a foundation for lasting healing.
Serving the First Responder Community
It is not uncommon for emergency responders to share strong, familylike bonds with one another. Due to the nature of their occupations, they often have experiences that only their peers can relate to. At Starlite Recovery Center, our team features former first responders who provide an authentic source of support and empathy for the patients in our Harbor of Hope program.  
We understand that many members of the emergency response community have endured events that have negatively impacted their lives. For this reason, we proudly offer residential programming that addresses the unique needs of this population.  
By seeking care at our facility, first responders can receive the focused care they need to achieve the best outcomes possible. Our compassionate professionals deliver clinically excellent services in a safe, confidential space. 
Comprehensive Treatment Experience
Prior to admission, each patient participates in a thorough initial evaluation. The information gathered during this appointment can help our team learn more about the goals and strengths of the individual, as well as their medical history and past substance use. 
Each person who participates in our Harbor of Hope program receives a treatment plan that is customized for them. Depending on their needs, a patient's care may incorporate: 
Individual therapy

 

Family therapy

 

Group sessions that cover topics like relapse prevention, anger management, and communication

 

Experiential therapies such as meditation and art 

 
First responders who are going through withdrawal must complete medical detoxification at our facility prior to entering this program. Once detox is complete, patients who have a co-occurring mental health concern can continue to receive medication management services on a case-by-case basis.  
About Harbor of Hope
Our Harbor of Hope program is available for adults age 18 and older who have a primary diagnosis of a substance use disorder. We also provide services for those who have co-occurring mental health concerns like anxiety, depression, and posttraumatic stress disorder (PTSD).  
This specialized programming addresses the needs of a diverse group of professionals, including: 
Emergency nurses

 

Law enforcement

 

Dispatch workers

 

Firefighters

 

Paramedics

 

Correctional officers

 
Our first responder program incorporates a variety of therapeutic modalities, such as eye movement desensitization and reprocessing (EMDR), cognitive behavioral therapy (CBT), dialectical behavior therapy (DBT), and motivational interviewing. Our experienced team works with each patient to determine which services and therapies they can benefit from the most. 
Our hope is that each person leaves our care with coping skills and strategies that can help them sustain recovery. When your time at Starlite Recovery Center comes to an end, we will help ensure that you have the resources needed to continue achieving success by providing you with a detailed aftercare plan.