It's a brand new year at Starlite Recovery Center. Along with new additions like an all-new adolescent program with a state-of-the-art building, new evidence-based program options including EMDR and neurofeedback, and a completely renovated Lodge for our emerging adult male clients, we are excited to bring on a new leader, CEO Rachel Everett, who will take us into 2019 and beyond.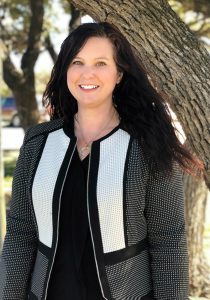 Rachel comes to Starlite with almost two decades of experience in the healthcare industry. With tenures at facilities in Missouri and Tennessee, she has worked in every aspect of behavioral health, from hands-on client care to case management and utilization review to running the admissions department, and as a chief executive officer.
"I worked side-by-side with every department," she says. "I learned what worked, what didn't, how to improve our outcomes, and how to make a difference in the lives of our patients and staff."
Prior to starting her career in this field, Rachel proudly served our country for eight years as an engineer in the U.S. Army Reserve, and her husband is an active-duty service member. Service to others is a key part of her core values, and she has carried that into her healthcare career.
"I love this field. Seeing a client change and watching the spark of life come back in their eyes when they receive the care they need is so gratifying," she says. "We help people change the trajectory of their lives."
In the short time Rachel has been part of the Starlite family, she has already made a positive impact on the facility, our clients, and our team members. With a new "Client First" attitude and a renewed focus on customer service, she is leading Starlite to new heights.
"Starlite has such a rich history," she says. "I want to honor the successes we achieved in the past while continuing to move us forward. We will remain loyal to our roots while adding additional evidence-based treatment protocols that will allow us to reach a wider market, improve the quality of care, and improve outcomes."